COOP

18 Socrati Hadjievaggelou Avenue, Amargeti, 8642 Paphos
Tel. 26 723036, Fax 26 723196
The Cooperative Credit Society of Amargeti was established by a group of progressive residents of the village. The goal of its establishment was to avoid financial exploitation by usurers. Moreover, the Cooperative Credit Society of Amargeti aimed and still aims to develop a spirit in favour of saving up and mutual help.
On 19th March 2007, the Coop of Amargeti merged with the Coops of Nata – Pentalia -Galataria – Koilinia and was renamed into Cooperative Credit Society of Amargeti and Environs. Presently, the central branch is accommodated in private buildings in Amargeti whereas the other branches are accommodated in private buildings in the rest of the communities.
The Coop of Amargeti and Environs provides services in the credit sector with medium and long-term loans, current accounts and deposits repayable on demand and with agreed maturity dates and periods of notice. It also owns a storage place with Agricultural necessities and a private food store.
KALAMOS WINERY - DISTILLERY
With respect to the quality and taste we produce traditional Wine and Distillates.
We are situated in the beautiful Amargeti and we cooperate with the cultivators of vineyards of the area. We always select the finest breeds of grapes and produce exceptional wine.
Taste and enjoy our incredible wines!
Contact us for further information!
SPRING OF LIFE FOREVER - ΕΣΤΙΑΤΟΡΙΟ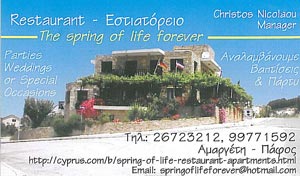 The spring of life forever
Amargeti, Pafos
Tel: 26 723 212 and 99 771 592
http://cyprus.com/b/spring-of-life-restaurant-apartments.html
Email: [email protected]
Located at an idyllic location within the village of Amargeti and more specifically along the main road leading from Agia Varvara to Panagia is The Spring of life Restaurant (Zoodochos Pigi).
Our Premises
Our gorgeous stony building consists of five flats located on the upper floor which are ideal for anyone seeking an unforgettable stay enjoying the peace and quiet of the village, while our traditional tavern is the perfect place to host large gatherings.
Our restaurant
It is open for both lunch and dinner throughout the week (Monday – Sunday) and it serves traditional home-cooked meals, meze dishes and grilled food, in other words the most delicious of tastes. Moreover, apart from the splendid tastes, you will be amazed by the owners' hospitality and their authentic smile.
The rich in variety of local wines cava is another strong point in favour of our restaurant, which, along with the warmth of the village and the majestic view, contribute to making your day or night a perfect one.
Our restaurant has the capacity to host engagement, christening and wedding parties (mainly during summer time using the large outdoor yard), as well as other special events.
Finally, it is noteworthy that our restaurant is only 15 minutes' drive away from the town of Pafos and just 10 minutes away from the Monastery of Chrysorogiatissa.
Contact us:
For further information or reservations, please contact us at 26 723 212 and 99 771 592